Pocher 1/8 Lotus 72 JPS F1 kit HK114
now in stock! order below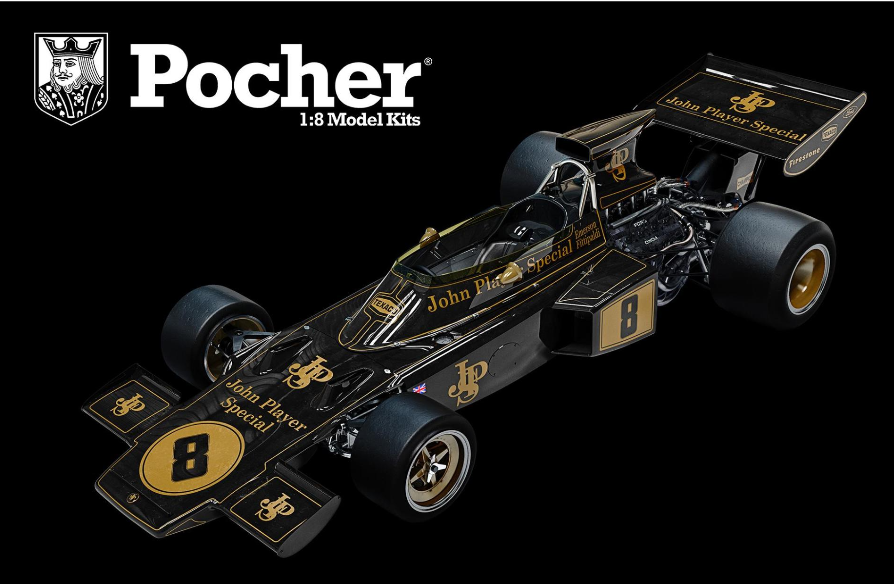 Pocher JPS Lotus 72 F1 kit details:
The majority of the body, engine, and suspension are diecast metal. All body parts are

pre-painted

and

the famous gold John Player Special sponsor markings are pre-applied. Plastic parts are molded in the appropriate colors. Assembly is primarily by screws, with minor gluing needed.

Scroll to the bottom of this page for photos of actual kit parts.
---
Order your Pocher 1/8 Lotus 72 F1 kit |

$850.

plus $60. s/h (retail price is $949.)
• pay via our PayPal

monthly installment plan

: 4 automatic payments of $215.*

• your

complete kit

is shipped

after

your fourth payment plus paid shipping cost

(this is not a

"partworks"

or subscription type kit)

*All pre-payment funds for kits are held in escrow and will be refunded

on request in case of unacceptable delay or cancellation.
• buy now

:

$850.

plus $60 insured UPS s/h |

$910. total

(NorthEast US addresses will receive a $20. shipping credit after purchase)

Canadian/International orders will receive an additional shipping invoice

;

Canada total shipping cost approx $110. | Australia total shipping cost approx $220.